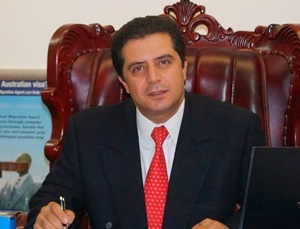 Name: Kourosh Momeni
MARA number: 0955242
Kourosh Momeni is the Founder and the owner of Click Australia Pty, Ltd. based in Sydney Australia.
He has been closely involved and worked in the Migration and International Student Recruitment industry since 2004.
Mr. Momeni and his associates assisted hundreds of their clients' to become permanent residents of Australia, gain student visas to Australia, New Zealand or to the United States of America.
His working experiences with different people from different countries, different age groups and different backgrounds encouraged him to study in various fields in order to enable him to undertake some sophisticated cases and deal with their migration matters or present their cases to the Migration Review Tribunals or Refugee Review Tribunals in Australia.
Some of his recent qualification are, but not limited to the followings:
-Postgraduate Certificate in Migration law and Practice (Australian National University), 2008
-Master of Translation and Interpreting Studies, UWS, 2007
-Master of Teaching English to the Speakers of Other Languages (TESOL), (University of Western Sydney) 2009
-Master of International Relation, Macquarie University, ongoing
Business name: Click Australia Pty. Ltd.
Business address: 44 Chatswood Village
47 Neridah Street
CHATSWOOD NSW 2067
Australia
Email address :km@clau.com.au
Website: www.clau.com.au
Phone: 61 2 94153344
Fax: 61 2 94153366
www.facebook.com/kochenan
---